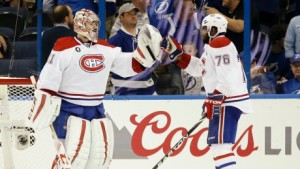 The Montreal Canadiens avoided a sweep and discovered their scoring touch in a blowout win against the Tampa Bay Lightning, while the Chicago Blackhawks put away the Minnesota Wild.
Here are three stories from Thursday night's NHL playoff action:
Canadiens take control
The Canadiens remembered how to score just in time to avoid elimination, earning a 6-2 victory over the Lightning in Game 4.
Trailing 3-0 in the second-round series, Montreal hadn't had much success putting the puck behind Tampa's netminder Ben Bishop.
But a combination of the Canadiens' up-tempo attack and some shaky play by Bishop helped Montreal put its stamp on the series, if only for one game.
David Desharnais's goal at the 5:08 mark of the second period staked Montreal to a 3-0 lead and also chased Bishop.
read more